---
In 1996 Wagerlogic, the subsidiary of Cryptologic signed up its first licensee, Inter Casino . That same year, Inter Casino began taking bets online, laying claim to being the net's first operational casino accepting real money wagers online. 888 Casino were hot on their heals and also claim to be the first to accept bets online. Both casinos are still running and have customers numbering in the millions.
---
What many players don't know is that most online casinos are powered software licensed from one of a small number of online casino software developers. Very few casinos actually un on proprietary software.
There are quite a few software vendors now peddling their wares to the online casino industry, but a large portion of online casinos run on one of a small number of software products. The industry's major software developers are Cryptologic, Microgaming, Playtech, and Real Time Gaming .
---
A study released in March 2001 by analysts Bear Sterns suggested that there were between 1,200 and 1,400 sites accepting real money wagers online. This number grew to an estimated peak of 2,000 sites in 2003. Since then growth has stagnated, with many believing that the market has reached a saturation point.
The above estimates are consistent with River City Group estimates, as illustrated below...is
As at 2009, the number of online casinos remains at around 2,000. It seems the market has determined how many casinos are able to operate profitably online.
While growth in the number of online casinos has stagnated, the number of online poker rooms has sky rocketed. From 1 in 2002, to around 250 by the end of 2004, poker rooms have definitely been the growth area although as with casinos this this industry will eventually settle down with the market determining how many poker rooms can successfully exist. As 2009, this number is around 500.
---
In a report published on February 18, 2002 in USA Today, equity research firm Bear Stearns were quoted as claiming that about 4.5 million people, half of them U.S. residents, regularly gamble online.
At a similar time,
(PRNewswire 22 March 2001) claimed that approximately 8 million people had already gambled with real money online at that time.
That's a lot of online players at present, with indications pointing to large increases in the future, particularly from Europe and Asia.
A survey conducted by 888.com in Britain in February 2005 revealed that the amount staked online by British players increased almost six-fold in the year since late 2003. Results of the same survey also revealed that almost 40% of British online players were women, representing a far greater proportion than in traditional 'off-line' gambling.
Real growth on online wagering has been experienced recently in the area of online poker play. According to PokerPulse.com, a staggering $300 million is now bet daily at online poker rooms. This compares to only $11 million daily just 5 years ago. In the same period, active player numbers have grown from 83,000 to 1.9 million
!
Below are player source and demographic estimates from various sources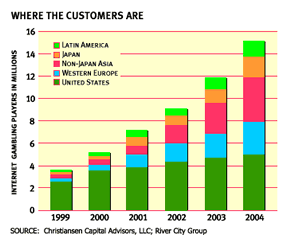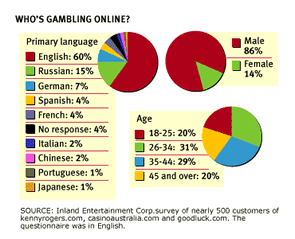 ---
If player number is your measure, then the clear winner is 888 Casino. They claim to have signed up over 7 million players since launching in 1996! And with an annual advertising budget of $35 million this number isn't altogether surprising.
In terms of games offered, one of the biggest names would definately be 7 Sultans Casino with over 400 games offered.
---
You're probably not surprised to hear that there are a number of casinos accepting bets online without license to do so. It has been estimated that up to 20% of all Internet casinos currently accepting bets are doing so without a license.
Licenses to operate online casinos or sports books are issued by the Governments of a number countries, mainly in the Caribbean and Pacific Islands. Antigua Barbuda, St Kitts, Vanuatu, and the Dominican Republic are notable licensing jurisdictions for Internet gambling operators. Certain North American Indian Jurisdictions, in which gambling is legal, such as Kahnawake, also offer licenses to online operators.
Other countries such as South Africa and certain EU countries are investigating licensing options. Australia recently legislated to allow the operation of Australian based casinos and sports books subject to restrictions regarding the acceptance of bets from Australian residents.
The UK Government legislated to regulate 'remote' gambling operations and offer licenses to online operators. France is tipped to follow the UK lead.
As a minimum, we would suggest that you only gamble at licensed online casinos. Most casinos that are licensed will display their license details on the site.
---
If its offered at a traditional casino, it'll be offered online. From traditional table and card games to player versus player poker, progressive games, bingo/keno, and a diverse range of slots, online casinos offer an enormous range.
The bigger online casinos have well over 400 games to choose from, including over a dozen progressive games with jackpots hitting the $5million mark regularly.
---
Just like in traditional casinos, when playing online you will find a significant difference in returns from one game to the next. As a general rule, low skill games such as slots and keno have large house edges, while games involving a degree of player skill, and scope for optimal playing strategy, have small house edges when played well. For more details on returns by game, visit our returns page.
---
Pretty easy really. You simply download the free casino software and follow the start-up instructions. Many casinos also offer no-download versions, so you can play directly from your browser without having to download.
---
Before playing for real money online, you will need to open an account by depositing money with the casino. This can be done in a variety of ways. Most common is credit card, but there are many other ways you can fund your casino account, including NeTeller, wire transfer, prepaid ATM just to name a few. For a full list of deposit methods, and which casinos accept them, check out our deposit options page.
---
Almost all online casinos, and certainly all listed at Casinos Page.com use 128 bit encryption security to transfer information and funds confidentially and securely. 128-bit encryption is the web standard for secure transactions, and the same level of security used by major financial institutions and e-tailers to guarantee secure transactions online..
Just look out for the padlock icon on the right site of your browser window status bar.
---
With regards to legitimate casinos and software providers, (which includes all casino listed on this site) game outcomes are dictated by random number generation systems embedded in the casino software. This means for example that the next card dealt for all card games will be totally random. It is also worth noting that the casinos themselves have no control over the outcome of games...this is dictated by the software, which in term is developed by a third party licensor.
Online casino software companies that support the casinos listed on this site are well known, well respected, large corporations that are listed on company stock exchanges. Their software has been tested to the nth degree by various licensing authorities, including those with the strictest probity requirements (eg Austalian gaming authorities), and been found to be totally random and fair.
---
Most online casinos have their return to player data across all games audited by PwC , eCOGRA or some other independent auditor. In fact, all casino running on Microgaming software must undertake mandatory eCOGRA audits of payouts every month. You will find a payout certificate detailing the outcome of the audit for these casinos.
---
Your winnings can be paid in in a variety of ways. Bank draft is a common method, and direct payments to your virtual wallet (eg NeTeller) are also an option.

---
For a full discussion of legal issues relating to online gambling, check out our online gambling legal issues page.
---
Just mail us, and we'll be happy to answer any questions we can.
(sorry email removed due to spam abuse)