Rules:
Blackjack :: Baccarat :: Roulette :: Craps :: Slots
PaiGow Poker :: Video Poker :: Caribbean Stud poker
Strategy:
Blackjack :: Blackjack Counting Cards :: Roulette :: Craps
PaiGow Poker :: Video Poker :: Caribbean Stud poker :: Slots
---
While slots are ostensibly a game of luck with very little player skill involved, there are still a couple of tips that you should follow when playing both online and traditional slots to help maximise your returns.
Play the maximum number of coins...
The most important rule to follow when playing slots is to play the maximum number for coins (ie 'bet max') each spin. This is because almost every slot game rewards maximum coin play by offering a proportionately higher payout for maximum coin wins.
Check out the below pay tables as an example of this: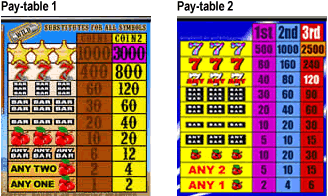 In pay-table 1, the jackpot for playing 2 coins (3,000) is three times larger than the jackpot for 1 coin play (1,000). A a result, the return offered for maximum coin play is proportionally larger than that offered for single coin play.
Likewise, a jackpot for single coin play in pay-table 2 pays 500 coins, while the jackpot for 3 coin play pays five times this amount (5,000).
Almost all slot games will adhere to this payout pattern, meaning that in the long run, this type of betting will always return more to the player.
But this doesn't mean you have to bet more per spin to maximize returns. Most online slot games offer play in a number of coin denominations. If you don't wish to bet a lot per spin, choose the smallest coin denomination and then bet the maximum number of coins.
So, lets say you are happy to bet around 50 cents per spin. You are playing a 5 reel, 9 line online slot that lets you play in coin denominations of $0.01, $0.05, $0.25, $0.50, $1 or $5. One choice would be to play $0.50 per coin, and one coin per spin. A much better choice would be to play $0.01 per coin, 5 coins per line and nine lines per spin for a $0.45 bet per spin. For a similar bet amount, you will qualify for the favorable returns of maximum coin play, and if the slot is a progressive, qualify for the progressive jackpot.
You don't have to bet more to improve your odds, but you must bet the maximum number of coins per spin.